Ga. Supreme Court upholds ruling on Braves stadium bonds | News
COBB COUNTY, Ga. -- The Supreme Court of Georgia unanimously upheld a Cobb County court's ruling that authorized nearly $400 million in bonds to build the new Atlanta Braves stadium.
In an opinion published Monday, the state's high court says issuing the bonds does not violate the Georgia Constitution.
The Cobb-Marietta Coliseum and Exhibit Hall Authority agreed last year to issue up to $397 million in bonds to cover the public share of building the new SunTrust Park in Cobb County's Cumberland area. The Cobb County Board of Commissioners approved the bond issuance.
During a July 2014 bench trial, three Cobb County residents -- Larry Savage, Richard Pellegrino and T. Tucker Hobgood -- argued the bonds should have received taxpayer approval before being issued. After a Cobb County Superior Court judge validated the bonds, the three appealed to the Georgia Supreme Court.
"We do not discount the concerns (Hobgood, Savage and Pellegrino) have raised about the wisdom of the stadium project and the commitments Cobb County has made to entice the Braves to move there," Justice David Nahmias wrote in Monday's opinion. "But those concerns lie predominately in the realm of public policy entrusted to the County's elected officials for decision, not in the realm of constitutional or statutory law."
Nahmias also wrote that "there may be a significant political price to pay for those who negotiated and signed onto" SunTrust Park if it does not meet expectations, but "under the law of Georgia as construed in the precedents of this Court, we cannot say that the trial court erred in validating the bonds or that the validation process was deficient."
Cobb County Commission Chairman Tim Lee, who was instrumental in negotiating the deal with the Braves, said in a statement he is "pleased" with the high court's ruling.
"The project has already generated a great deal of economic growth, including thousands of construction jobs and more than $200 million in contracts to Cobb County firms," Lee said. "We appreciate the support and diligence of the Atlanta Braves throughout this process and look forward to continuing to work with all of our partners toward the completion of a development that will benefit Cobb County, the region and state for decades to come."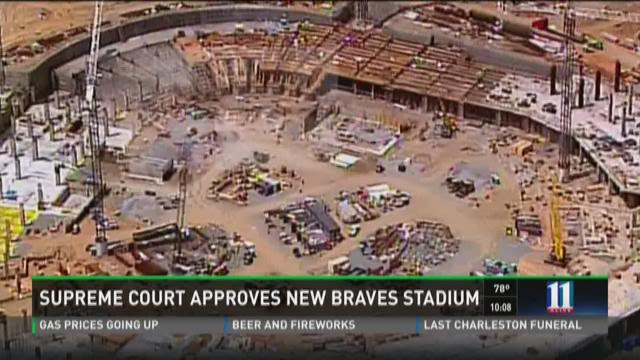 PHOTOS | Watch SunTrust Park take shape