Grand Jury: Nicholas Thomas shooting was justified | News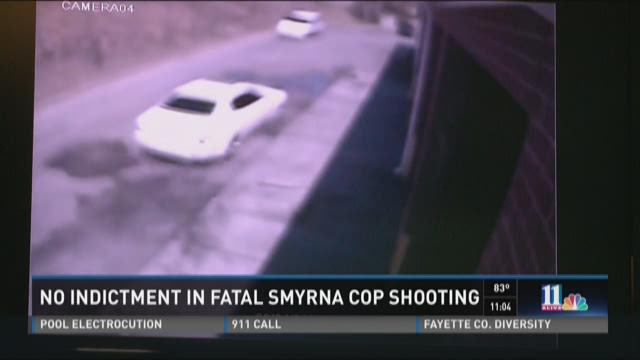 COBB COUNTY, Ga. -- A Cobb County Grand Jury has ruled that a Smyrna police officer's fatal shooting of 23-year-old Nicholas Thomas was justified.
Cobb County District Attorney Vic Reynolds said it's a tragic situation and he feels for the Thomas family, but said that he agrees with the grand jury that Smyrna Police Sgt. Kenneth Owens feared for his life when he fired the fatal shots on March 24.
"The loss of life is unfortunate, and I sincerely sympathize with Mr. Thomas's survivors. But when he drove the vehicle toward officers in the manner he did, the officer who fired the shots was justified under the law to use lethal force," Reynolds said Thursday. "Police officers in Georgia are authorized to fire their weapons to protect themselves or others from immediate bodily harm. That is what happened in this case."
Thomas was at Bob McDonald Goodyear in Vinings, where he worked. Police officers from Cobb County and Smyrna arrived at the facility to arrest Thomas on a felony probation violation warrant.
Owens fatally shot Thomas when he jumped into a customer's Maserati and drove it toward responding officers.
On Thursday, authorities released surveillance and dash cam video from the incident. In that footage, the Maserati is seen driving back and forth multiple times behind the Goodyear. Officers are seen jumping out of the way to avoid being hit. The shooting itself is not seen in the video.
An attorney for the Thomas family is scheduled to hold a news conference on Friday. The family has argued that Thomas was unarmed and should not have been shot. The district attorney said that the vehicle was being used as a weapon.
Smyrna Police released a statement saying:
"The Smyrna Police Department is satisfied this incident was thoroughly scrutinized, investigated, and evaluated. Moreover, we owe a debt of gratitude to all three agencies for their effort, due diligence, and professionalism during the long and tedious process of such an important investigation."
The statement adds, "We also continue to offer our heartfelt sympathy to the family of Nicholas Thomas during their time of bereavement and hope that this decision brings closure for all those involved."