Cobb clings to hope for cheaper Braves bridge | News
COBB COUNTY, Ga. -- Team officials say the new Atlanta Braves stadium in Cobb County is ahead of schedule and under budget. The stadium is due to be ready when the 2017 baseball season starts. But a bridge that will connect the stadium to parking across I-285 is not likely to be on time or under budget.
Earlier this year, MARTA completed construction of a pedestrian bridge across Georgia 400 in Buckhead. MARTA says engineering and construction of the bridge, which handles only pedestrians, cost $32 million.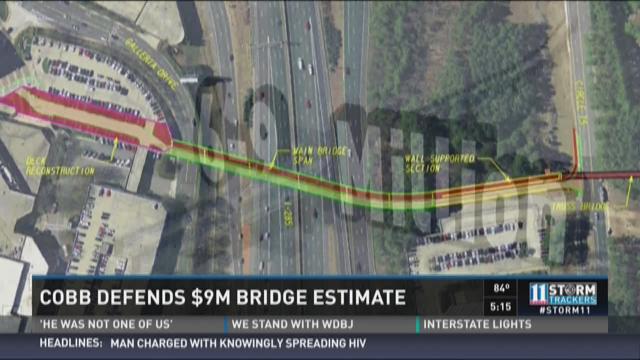 Lee has maintained that the I-285 bridge can be done for $6-9 million. Cobb County expects an engineering firm to come up with a design and firm cost estimate in the next few weeks. The Cobb bridge would handle pedestrians and circulator buses between the Braves new SunTrust Park, and the Cobb Galleria.
During an event at the construction site, Lee agree to answer a few questions from 11Alive News.
Q: You're aware that MARTA recently built a similar pedestrian bridge for $32 million. Does it make sense that your bridge would be that much less?
Lee: I'm not familiar with that project and can't speak to it. I just know that we're working hard to get ours delivered on time and on budget.
Q: If one looks at the two bridges, does it make sense that one might be skeptical about the $9 million bridge (cost)?
A: I can't speak for anybody else. I'm confident we're going to get it done.
Q: At nine million?
A: The projections my staff, as of today, that's where we're at. And we're confident we're going to get in that range. I'm not sure about the actual number, nobody is. That's what the engineers are working on.
Q: Are you girding yourself for a potential surprise?
A: (Chuckles) We're going to have a great bridge and a great project. We're proud of Cobb County and we're going to get it done.
It's unclear when Cobb will sign a contract with a builder and learn the cost, though it's likely in the next few weeks. Lee says the county is aiming to have it finished in time for the April 2017 start of baseball season, which is some 20 months from now.
The MARTA bridge took 27 months to build.
"The responsibility of the bridge is obviously on Cobb County," said Braves executive vice president Derek Schiller. "And it's up to Cobb County to figure out how to best schedule that. We feel it's very important, as does Cobb County, for the safety of not only braves fans... as well as visitors to that (site) to go back and forth across 285 safely."