The Smite World Championships brings big money pro video gaming to Atlanta | News
Title (Max 100 Characters)
The Smite World Championships brings big money pro video gaming to Atlanta
ATLANTA (WXIA) -- Viewers this weekend are enthralled as play-by-play announcers are following the intricacies of the gameplay, while color commentators are adding details to the playoffs as the teams advance or go home in each round. 
And while the NFL Playoffs get underway this weekend, this is not the National Football League. 
This is the Smite World Championships, being played live at a sold-out Cobb Energy Centre, and yes, it is a video game tournament. The tournament is being streamed online (complete with announcers -- ala ESPN) at http://www.twitch.tv/smitegame
This type of online streaming for video game tournaments is becoming much more common, and purses are becoming much, much richer. The uninitiated would quickly scoff at the idea, but the viewer numbers for these types of streams is astronomical. More than 270,000 viewers have signed in to watch this weekend's tournament from around the world.
This type of gaming caught the attention of Amazon a year and a half ago, who bought Twitch, the primary company streaming online gamers and gaming tournaments for more than $900 million.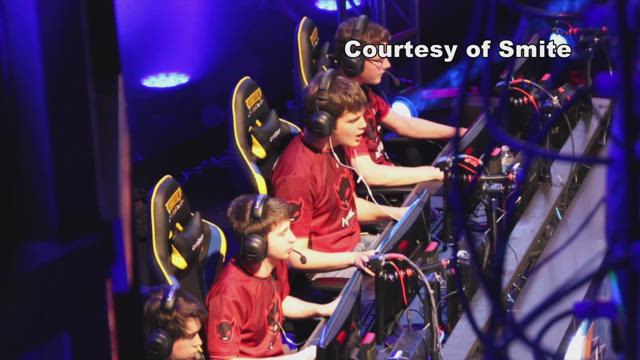 Along with tournaments for other video games, Twitch provides a forum for individual gamers to stream their own games, and to cultivate their own followings as microbroadcasters on their own. 
Quarterfinals of the Smite World Championships were Friday with the semifinals are running through midnight Saturday, with the grand finals on Sunday -- grand prize winners will take home a half-million bucks.
Tickets have been sold out for the tournament, and thousands of fans have descended on the Cobb Energy Centre to watch the tournament live. In addition, a gamers convention of sorts is taking place at the center, including a cosplay contest. Many of the activities are also being streamed on that same online stream, and during off-hours, replays are also being streamed in the event viewers miss anything.
More information about the event itself can be found at https://swc.smitegame.com/